Have you ever fantasised about Serving or being Teased mercilessly by a strict female Air Stewardess ?
The 2023 Great American Tour
The good news is that Miss Jones is back in the air and will be visiting most large cities in the US in December 2022 and January 2023 but it's important to block out time for you in my diary as it really will be a case of catch me when you can as I'm only be on the ground for a few days but never seen without my stockings and heels!!!
TOUR DATES
COMPLETED TOURS LAX 24th October – 27th October San Diego 28th 29th, 30th & 31st October San Francisco  1st, 2nd & 3rd November Newark, New Jersey 4th-6th November & 9th & 10th November Manhattan, New York City,  Monday & Tuesday 7th & 8th November, Philadelphia  11th-13th November, Washington  DC 14th-16th November, Detroit  17th & 18th November, Cleveland  19th – 21th November, Pittsburg 22nd -24th November Columbus 25th & 26th November. Cincinnati 27th & 28th November Indianapolis 29th & 30th November, Chicago 1st – 4th December, 1st & 2nd DOWNTOWN,3rd & 4th O'Hare Airport, Rosemont, Milwaukee 5th & 6th December, Boston 7th – 11th December, 7 & 8 DOWNTOWN, 9, 10 & 11 Logan Airport, Jacksonville 12th-14th December, Orlando 15th-20th December, Tampa 21st-22 December,
Fort Lauderdale 23-29th December, Miami 30th-1st January 2023, Houston 2nd-6th January, San Antonio 7th & 8th January, Austin 9th & 10th January,  Dallas 11-13th January, Phoenix 14th-17th January, Denver 18th & 19th January, Las Vegas 20th-25th January,
Costa Mesa & LAX 26th-29th January, NEWARK 30th January to 1st February 2023
IRISH TOUR
Dublin, Ireland
From Thursday, 2 February 2023 also visiting Cork, Limerick, Galway, Waterford, Kilkenny, Sligo, Letterkenny, Belfast & Dundalk
TERMS

Sending me an advance booking deposit by PayPal  will secure your priority and will ensure those of you who are serious about meeting with me will be granted your Wish!!
Are you yearning to be dominated by a beautiful, sophisticated and powerful Air Stewardess in her tight Uniform, Stockings or Pantyhose and High Heels?
Do you have a role-play scenario you fantasise about that you would love to bring to life?  Forced Bi !!! Tell Me?
The Dinner and Dominance Date
Do you fancy meeting up with me for a drink in a posh hotel bar where you have to find me sitting at the bar dressed in a tight business suit, sheer stockings and high heels and have me dominate you over drinks and dinner and back to the Room?
My Dinner and Dominance date is very popular and different to the norm! Anything can happen here!
Forced Bi ?
I am usually assisted by a sexy little Sissy Maid TV cross-dresser, clad in stockings and high heels, for advanced training that will bring you to dizzy heights of perfection as my Sex Slut ?
My results and feedback are Fantastic!
Meet Miss Jones Dominatrix Boss.
I'm a new style Dominatrix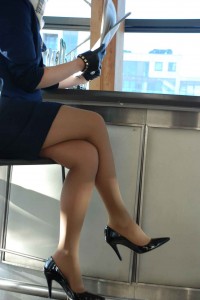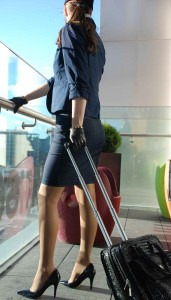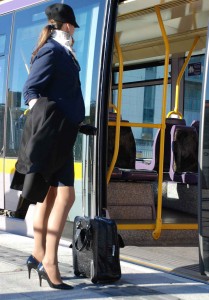 I am a Stewardess with an International Airline, I have my uniform and clients love me to play the role of the bossy Air Hostess and it's one of my most asked-for scenarios.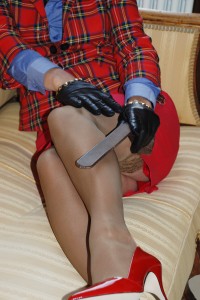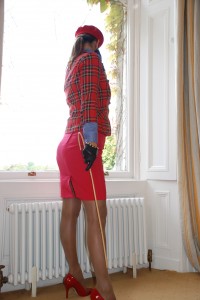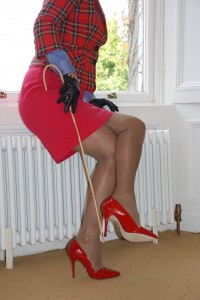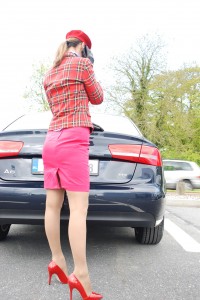 I can also be the Stern Scottish Schoolmistress, and have a good range of straps to give you a good Leathering. I love administering a really good Caning, do you like the Cane I'm holding in my photos?
It's waiting for you Now!
NOTE WELL!!!
I AM A PROFESSIONAL DOMINATRIX BOSS SO THERE WILL BE NO SEXUAL SERVICES. I am not an escort service but I will guarantee you a very erotic experience as you've never had before! You will leave Happy!